April 2002
Re-Mastered Bath
or
"Our Bathroom's Back and We're Gonna Be Bathing..."
Short, short version: one-piece bathtub insert cracked in 1997. Needed 1998 tax return to afford new one; plumbers left gaping holes in drywall in leveling the tub, so toilet/sink was usable, not shower. Took four years to find cash and good repairperson simultaneously. Not sure he'd want his name mentioned, but a
BIG THANKS
here in public! We've finally finished preparing it for use.
Just one more thing will be changed. The blind will be replaced with a easily-washable curtain.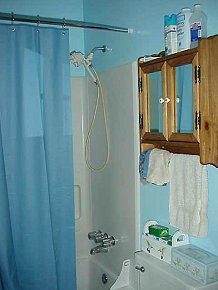 Look, ma, no exposed insulation! The nice medicine cabinet was purchased at
the Yellow Daisy Festival (second week of September, Stone Mountain).
Linda purchased the "soap box" at Michael's and painted it.
---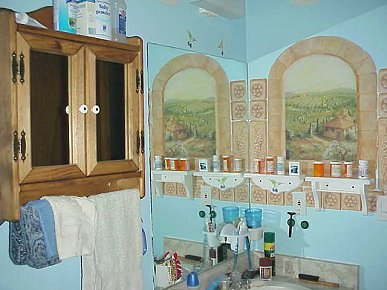 This is a "Wallies" mural entitled "Tuscan Window."
While we take our meds we can "look out" over the countryside.
---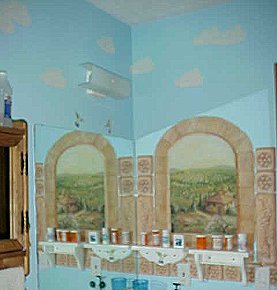 Up over the cabinet, mirror, door, and window are these cloud Wallies.
Those are hummingbirds over the mirror.
(Sorry for blur. This was taken later when dark and turning on light was too bright.)
---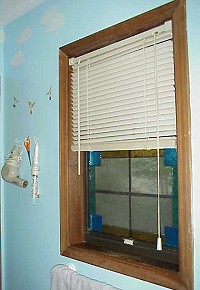 Clouds, more hummingbirds, and a very simple "haircare center."
I used Plaid Glass Art paint on the windows.
---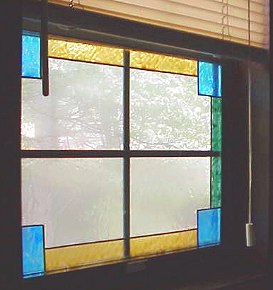 Another shot of the glass.
Yes, I only frosted the bottom, for privacy; the top part is to look out.