July 10, 1999 (except for first photo)
The Rocket Boys...and Girls
James after surgery, guarded by his faithful "terror-ier."
Notice closeup of the knee that wasn't to be done. <g>
---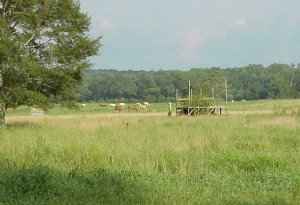 Notice the horsies grazing faaaaaaaaaaar away in the pasture!
But why do they lurk so far away when there are humans with carrots nearby...
---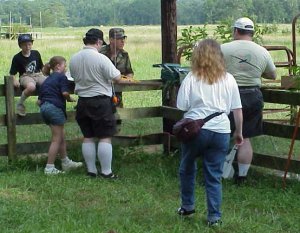 ...because there are things that go woosh and bang in the paddock!
The "rocket boys and girls" set up.
---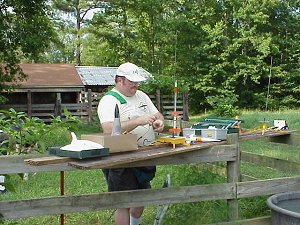 James sets up an Estes Nike Arrow for launch on a makeshift pad.
---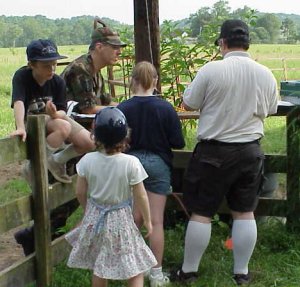 Naaman, Sarah, and even Aubrey gather round as Jerry watches while John sets up some rockets.
---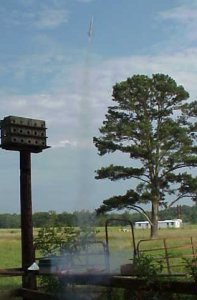 A rocket seeks the sky: Estes AGM-12B "Bullpup D."
---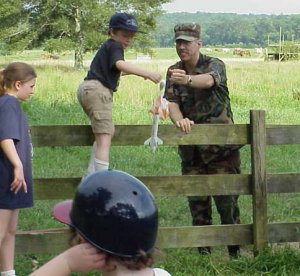 Wow, you guys even had an Army guy fetching your rockets!
Well, sorta. Jerry came directly from Guard weekend--oh, and he's in the Air Force. <g>
---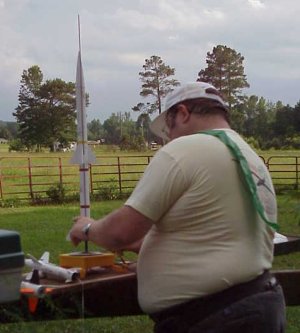 James prepares an Estes AMRAAM for launch.
---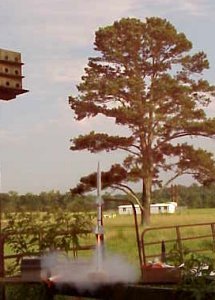 Not only a contrail, but engine fire--Estes AMRAAM
---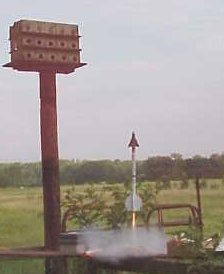 A hangar for denizens of the "old flight" is the backdrop for new flight.
The rocket is an Estes AIM-9 "Sidewinder."
---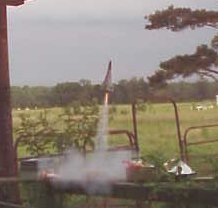 A "squat little rocket" that sure can fly! A Quest DC-Y.
---
A beautiful shot of a great launch. The Quest Nike-Smoke.
---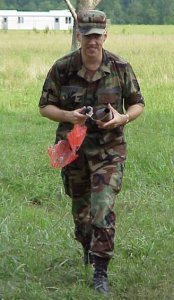 Jerry brings the final rocket home.
James only made one "sacrifice to the rocket gods."
Unfortunately the "Sidewinder" flew outside the recovery area.
---

Now that it's quiet, Claudia's horses return to the paddock:
From top to bottom, Emily, Yellow, and Gussie.
Thanks for the loan of the pasture, Claudia and Doug!